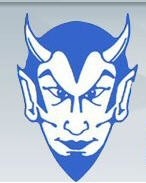 Brian Marron, Staff Writer / Record Sports
WOOD-RIDGE – Using a quick start and a stout pitching performance from senior Nick Pronti, Wood-Ridge, No. 13 in The Record top 25, edged out No. 4 St. Mary in a pivotal NJIC clash.
Freshman Liam Winslow gave the Blue Devils a huge lift at the plate, going 2-for-3 with a double, a run scored and two RBI. Pronti improved to 2-0 on the year as he threw six inning with six hits and two earned runs allowed. He received strong support early thanks to a 5-1 Wood-Ridge through three innings.
Shian Tanaka and Anthony Trano each drove in a run for the Blue Devils (8-2). St. Mary (6-2) smacked a triple to go with two RBI, and Kenny Quijano took the loss.Baseball:
For complete box score results of 4/17 Baseball and Softball, go to: 
http://www.northjersey.com/story/sports/high-school/varsity-aces/2017/04/17/hs-results-monday-april-17/100588358/