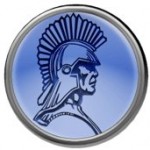 November 14, 2015
EMERSON — Griffin Price stood calmly before his penalty shot, ready to give Waldwick some late hope and not ready to see his career come to a close.
He buried the game-tying goal with four minutes left to extend the championship past regulation.
A few minutes into overtime, he ended it.
The senior scored again for Waldwick off a pass from Marwan Zoweil and the Warriors beat Emerson, 2-1, in what Price called the craziest game of his life. The resilient Warriors trailed for most of the game, but came through with their season on the line to repeat as North 1, Group 1 champions.
"We know that no matter what the score line is, we're playing hard to the final whistle," Price said. "So I don't care if we got zero shots on net all game. We got that PK call. And we knew we were going to win once we went to OT."
Price's goal completed a magical run for the Warriors (17-5), who lost their last two regular-season games and came to the tournament as the No. 7 seed. They had to play on the road for two of the four playoff games and needed double overtime to get past Kinnelon in the semifinals.
http://www.northjersey.com/sports/high-school-sports/boys-soccer/price-makes-sure-to-leave-his-mark-1.1455372