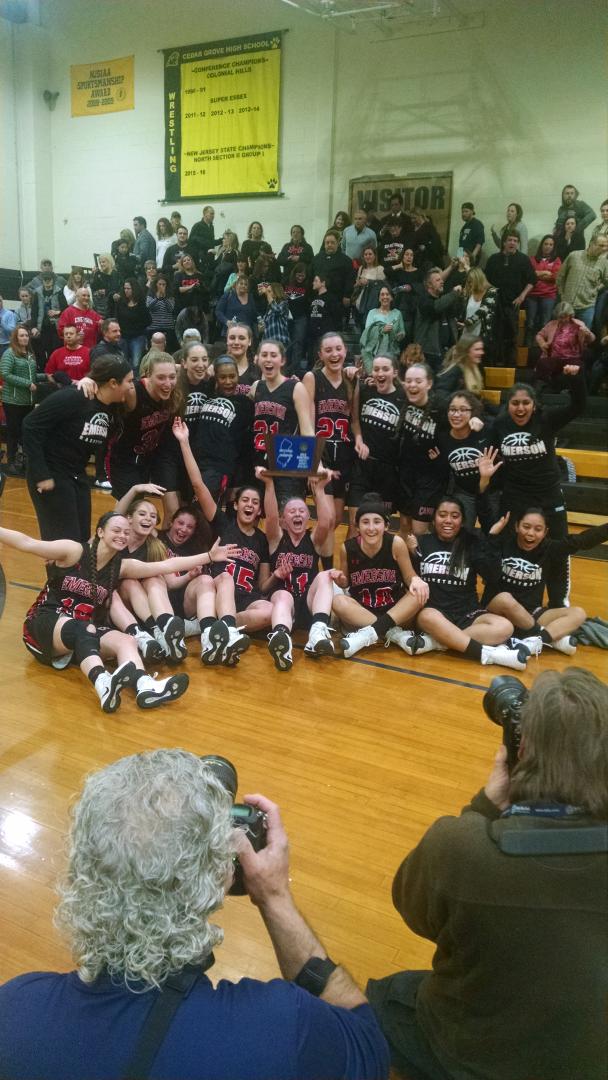 By Jason Bernstein | For NJ Advance Media 
03/07 – Girls Basketball
Team
1
2
3
4
Final

Emerson Boro

14
10
21
10
55

Cedar Grove

7
6
10
6
29
CEDAR GROVE — Dating back to the summer, the slogan for the Emerson Boro girls basketball team has been "Our Time."
On Tuesday night, what started as a motto on t-shirts and tweets became a reality.
Thanks to a suffocating press defense that forced 24 turnovers and a game-high 23 points from Carly Petrower, fourth-seeded Emerson Boro's time officially arrived with an emphatic 55-29 victory over second-seeded Cedar Grove in the NJSIAA/ShopRite North Jersey, Section 1, Group 1 final in front of a capacity crowd.
This is the first sectional title since 2011 and fourth overall for Emerson Boro (23-6). The Bergen County school will face University of Newark in the Group 1 state semifinals on Thursday at 5 p.m. at Ramapo High in Franklin Lakes. University, the defending Group 1 champion, defeated Secaucus to win the North Jersey, Section 2, Group 1 title.
Cedar Grove (17-10) was playing in the sectional final for the first time in program history.
"Last summer we came up with this, our phrase," Emerson Boro coach Colleen Malzahn said. "I think we all felt it, but to see it actually happen proves how much hard work pays off."
"It's definitely our time. This is literally our time," said senior guard Devin Riker, who scored 16 points. "All season, we've been saying this is our time is now. We knew this was going to be our year. We won our league, we won our (section) and we just want to keep it going. This is our season."
The visiting Cavos made sure of that right from the start. In just the first minute, their trapping defense with Petrower on the ball, Hayley Piccinich and Nadia Itani on the wings and Riker serving as a rover on the second level, forced three turnovers and helped produce a lead the Cavos never relinquished.
"We knew that Devin Riker was one of the best defensive players out there and where to put her. Having her in the back being able to see everything (was big)," said Malzahn. "We have two lanky guards on the wings and Carly on the ball. Everybody is just in the right piece. We have every piece to the puzzle in order to make it a success.
"We work really hard on our traps in the corner. If we get that trap then nothing else even matters," said Riker. "We get that trap. Tori (Elek), her arms are longer than I am. Hayley jumps all over the place. Carly's long, Nadia's long. Just having all us there, I wouldn't want to be stuck in it."
Behind those traps, was 6-foot forward Jenna Cooper waiting in the paint to challenge anyone who broke the press. Cooper finished with 12 points and 14 rebounds for her fifth consecutive double-double.
Emerson Boro had 16 steals on the night, led by Riker's six and Petrower's four. Seven of the Cavos' thefts came in a 15-4 run to start the second half, which broke the game wide open. Petrower erupted for 10 points in a span of 2:24 and Riker capped off the five-minute surge with a 3-pointer from the left wing to push the lead to 39-17.
"The energy was just great. One steal after another, it just feeds us. We feed off of that as a quick team so once we get going, we don't let up," Petrower said. "It's amazing. We said it from the beginning. Every game, we've been working towards this. This is our time, this is our season. It's been great."
Elyse Fearon had 10 points and nine rebounds for a Cedar Grove team, which got nine points from Alyssa Lever and eight from Daniella Cordasco.