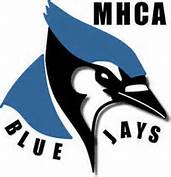 Bryonna Richburg became a bowling champion by working at her craft from age 5 onward.
Softball, on the other hand, came to her "accidentally."
The rising senior has garnered attention in both sports for Mary Help of Christians, the smallest school in the NJIC Colonial Division – and the only all-girls school in a boys/co-ed bowling league.
On the lanes, Richburg, 17, won high series and high game at the 2018 Passaic County tournament, helping the Blue Jays equal their best-ever team finish of third. The Paterson native credits her grandmother, the late LaVerne Brown, for fueling her interest in the sport.
Credit for her softball career goes to her cousin, rising senior Ranasia Johnson of Non-Public B champ Immaculate Conception.
"When I was 9, I was at her house for a sleepover, and she had softball practice the next day," said Richburg, admitting her knowledge of the game was limited at that point.
"So I went to her practice for one day and just played around with the ball, kind of tossing it [to the fielders]. Then the coach came over and handed me a glove and started tossing the ball to me … [eventually] he taught me how to pitch, and it all started from there.
"It was accidental, actually," she said with a laugh.
Helping hand
Softball at Mary Help had been an afterthought prior to Richburg's arrival. The team had lost 99 straight games leading up to the 2016 finale.
In that game, the 5-foot-1 right-hander tossed a five-hitter as the Blue Jays topped Manchester, 4-1. The drought had been so long, players were ready to bat in the home seventh before coach Davida Gotha-Ostrander informed them it was time for the handshake line.
This year's finale had a similar vibe. Mary Help defeated Glen Rock for the first time since the teams became league rivals in 2010 – after the Panthers had won the first 15 meetings via the mercy rule.
SOFTBALL: Ellen Feuss of Glen Rock battles back from severe concussion
READ MORE: Jessie Gohde of Secaucus goes the three-sport route
"They did not have their starting pitcher, because we'd started the game a week before on that terrible thunderstorm day [May 15]," Gotha-Ostrander said. "We played two innings, it was 1-0, and we were super proud about even doing that with Glen Rock."
The game resumed on May 24 in the third. The Blue Jays scored seven times in the fourth and prevailed, 7-6, with rising sophomore Savannah Susen pitching and Richburg at first base.
"We didn't start off too strong, but we definitely finished strong," Richburg said.
"We didn't even have to get up in the bottom of the seventh," Gotha-Ostrander said. "They were walking in and I said, 'Alright, line up.' Even my assistant coach was like, 'Why, what happened?' I said, 'We just won, right?'"
Staying on a roll
The Blue Jays finished 7-14, posting their highest win total since 2008, when they went 10-4 in the now-defunct North Jersey Girls Catholic League. Richburg (.576 average, 3 HR) and Natalie DeCindio (.333, 29 runs) will be the top returning seniors.
 The former had pitched every inning through her first two seasons and went 6-10 while getting some relief from Susen. Richburg also recruited her fellow hurler to the bowling team, along with rising sophomore Kayla Sullivan.
"It was pretty great having a season with them [before softball]," Richburg said. "We may get some new bowlers, [if we] just tell them it'll keep their arms ready for softball."
The latter is the sport Richburg is considering for college, which she hopes to be someplace warm such as North Carolina. Her aim is to study sports medicine, and her attitude toward athletics puts that subject right in her wheelhouse.
"Each year, I realize that I'm going to college soon, and I want to be better," she said. "Every time I step on the field, I have the mentality of, don't think about it too much and just play your game."
In her words
Richburg on one of her biggest influences, her late grandmother LaVerne Brown:
"I started bowling when I was five. My grandmother, she would bowl everywhere. She started at Parkway Lanes [where Mary Help now competes] when she was younger, and I would always go with her to her Sunday and Monday night league … I just kept saying, 'I want to knock down all the pins, I want to be like you.' So we kept working and working, and eventually, she started a program on Saturdays at Parkway called D's Team. She was the coach, and you'd start off in the little kids' league, the bantams, and then you'd work your way up to majors."
By: Greg Tartaglia, Record Sports Department