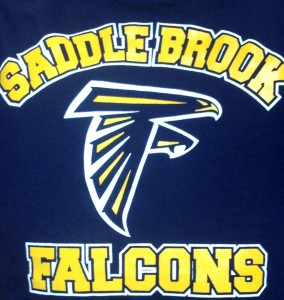 Saddle Brook ventures into unfamiliar territory with a group of players whose camaraderie should make them better prepared to handle the change.
The Falcons have shifted to the North Jersey Interscholastic Conference's bigger Liberty Division after residing in the Meadowlands, and that means a new schedule and new set of challenges.
"They're a bunch of good friends off the field, on the field, and I think that chemistry they have is going to work out great for us this year," said Leo Ciappina, in his 13th season as coach.
The Falcons are athletic and return a handful of starters on offense and defense, including senior quarterback/defensive back Derek Muoio, and that should help them remain competitive.
Muoio is among five starters returning to an offense that runs a spread with variations. Muoio will have the benefit of three returning senior linemen in Nick Kahwaty, Brian Stanzione and Alex Sucuzhanay. The Falcons also return senior WR/TE John Hacker.
The Falcons need several new starters to step up at the skill positions. Senior David Moreno and junior Joey Nudo are the primary running backs, and junior Nick Ciolino will be in the slot.
"We have some offensive linemen back and our quarterback, and some tough running backs, so I expect to be aggressive on offense and move the ball on the ground and throw the ball in the air a lot," Ciappina said.
The defense runs a 4-4 and returns six starters. Kahwaty returns to the line, while Hacker and Stanzione may shift from the line and join Moreno at linebacker. Muoio and Ciolino return to the secondary.
New starters on defense include Sucuzhanay on the line, Nudo at linebacker and senior George Luis in the secondary.
"I expect us to do a good job of being aggressive and getting to the football this year," Ciappina said. "And where we showed some inexperience in places last year, I expect to do a lot better this year in terms of just knowing the down-and-distance situations and just tackling better."
History
Saddle Brook has never won a sectional title. The Falcons' last playoff win came in 2012, when as a No. 2 seed they defeated No. 7 Cresskill in a North 1, Group 1 opener, 40-14.
The Falcons are 56-62 in their first 12 seasons under Ciappina. His best season came in 2011, when they finished 10-1, including a 30-7 victory over host and No. 4 Mountain Lakes in a North 1, Group 1 opener.
Expectations
Stepping up into a division against bigger schools all but prevents Saddle Brook from having expectations. What is encouraging is the Falcons have more than 20 players available for varsity, which is about an average number over the past few years.
"Honestly, I thought it was going to be worse this year because of the virus," Ciappina said. "And, actually, some unexpected kids came out and we were able to have a decent squad out there."
Coronavirus impact
Saddle Brook opened summer recess workouts Aug. 3 and practiced all the way to Aug. 28, before the NJSIAA-mandated two-week hiatus kicked in Aug. 29.
"I thought it went well," Ciappina said. "Our kids had a great attitude. As soon as we got to practice, the kids got right to work, offense, defense. They were just eager to get out there, and grateful that they were going to have a season."
Tentative 2020 schedule
Oct. 2: at Hawthorne
Oct. 9: Harrison
Oct. 16: at New Milford
Oct. 23: at Pompton Lakes
Oct. 30: Glen Rock
Nov. 6: TBD
Nov. 26: TBD
Greg Mattura is a high school sports reporter for NorthJersey.com. For full access to live scores, breaking news and analysis from our Varsity Aces team, subscribe today. To get breaking news directly to your phone, sign up for our newsletter and download our app.
Email: mattura@northjersey.com Twitter: @gregmattura