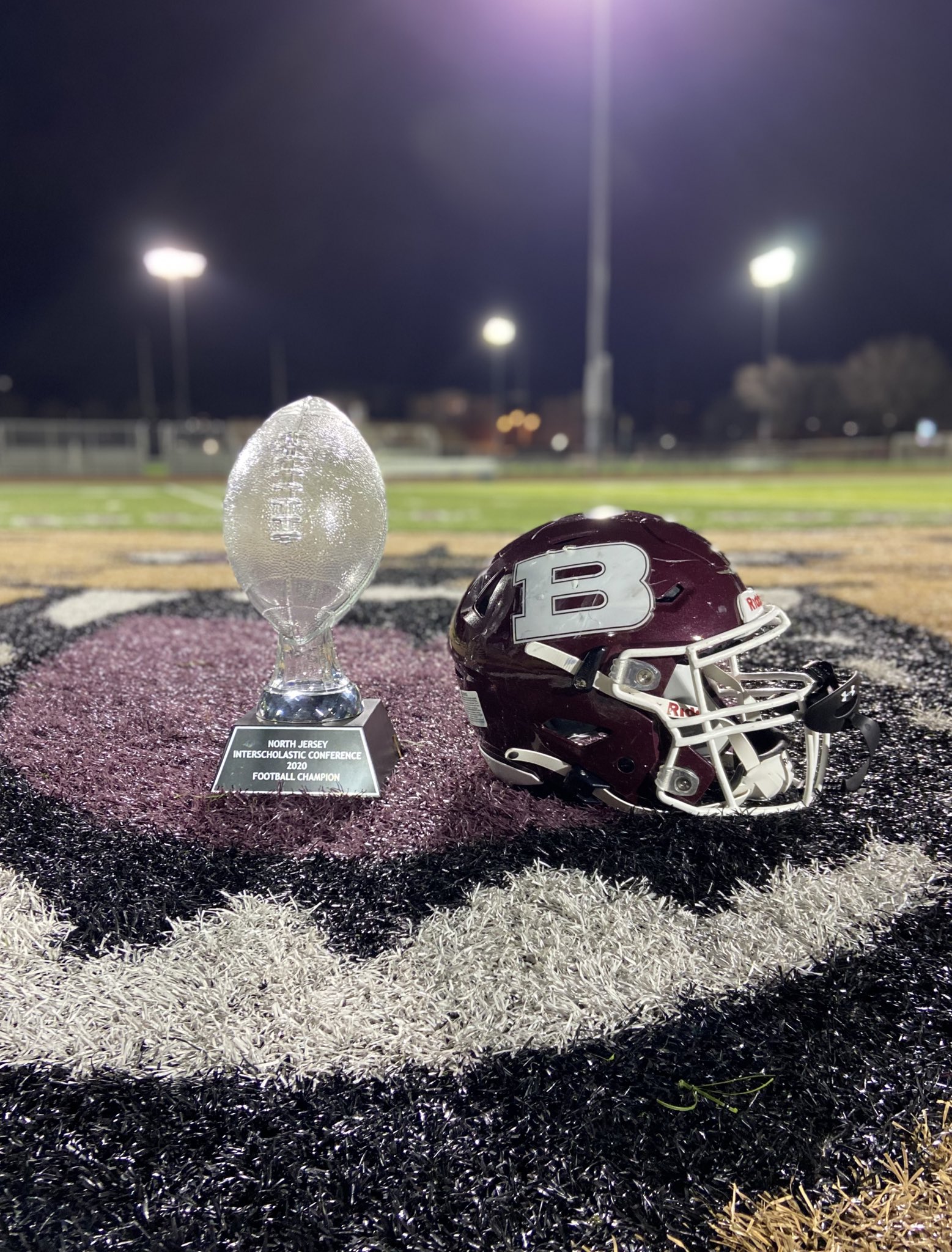 EAST RUTHERFORD — Jack Maher had trouble containing his excitement. And this was before the first snap of Friday's NJIC football final at Riggin Field.
The first play that the Becton coach called was a deep pass, and he let out an audible "woo-hoo" on the sideline as both he and quarterback Joe Crifasi looked over the defense.
Crifasi fired a 63-yard touchdown strike to Marcus Duran on the first play from scrimmage, and the Wildcats rode the early momentum to a 41-12 victory over Waldwick/Midland Park.
Becton captured its first North Jersey Interscholastic Conference championship and completed a 6-0 COVID-shortened season.
"We knew they were in 'Cover-0', and we prepared for that all week," Maher said of the opening play. "And [Crifasi] loves throwing the backside post, so he's rolling out to the left, and there was a guy open. But he checked backside, and Marcus was all by himself."
"Since I became quarterback last year, that's been one of my favorite routes to throw," Crifasi said. "And this year, obviously, I didn't get as many chances to throw it.
"Marcus always bugs me about throwing to him, so when I was rolling left and I saw him, I was like, 'I've got to throw it,' and I had no doubt he was coming down with it."
What it means
With the deep-post TD sparking a 21-point outburst in the first five minutes, Becton was well on the way to its first unbeaten campaign since 2003.
The only question that remained until the late going was if the Wildcats could become the first Bergen County team not to allow a point over an entire season since 1938.
The bid lasted until 14 minutes, 51 seconds of football remained. Warriors senior halfback Rashawn Markman snapped the streak with a six-yard touchdown run and added a 24-yarder midway through the fourth quarter.
Key sequence
The rest of Becton's early outburst included a 71-yard Cencir Bacote punt return TD, and a Crifasi-to-Ryan Reid 18-yard score – one play after Bacote brought back a punt 42 yards into Warrior territory. (Watch the video of Reid's TD catch at the top of this page.
"Whenever I make a great play, or whenever my team makes a great play, I just hype everyone up," said Bacote, the Wildcats' emotional leader.
"I'm just glad that we got to go out with a championship win."
By the numbers
► Becton ran just 24 offensive plays (with only 10 rushes for 25 yards), while Waldwick/Midland Park dominated possession with 51 plays (39 rushes for 148).
► Secondary defense made the difference. Sonny Ragusa broke up the Warriors' fourth-and-goal pass late in the first half, and the Wildcats made three interceptions in the second half – two by Duran and one by Bacote on a two-point try.
Game balls
► Crifasi completed 10-of-14 passes for 224 yards and three touchdowns, adding six carries for 15 yards and two scores.
► Bacote caught three passes for 64 yards in tallying 182 all-purpose yards.
► AJ Arroyo led the Becton defense with 12 tackles, while Bobby Colaneri chipped in seven tackles and a sack
► Fullback/linebacker Zachary Hulsizer stood out on both sides of the ball for the Warriors, carrying 16 times for 78 yards and recording eight tackles.
They said it
"It means a lot, because we hadn't won a championship in 17 years. So, just to bring home another one to the community, it's great. … Us seniors and juniors, most of us have been starting since freshman/sophomore year, and we knew this year was going to be special." —Crifasi, a senior from Carlstadt
"It's tough to come back against a defense like that. … They're a great team. You can't make those mistakes against them, and our youth showed. It was a bad thing for tonight, but we'll be alright for the future. We'll be back." —Waldwick/Midland Park coach Greg Gruzdis
Greg Tartaglia is a high school sports reporter for NorthJersey.com. For full access to live scores, breaking news and analysis from our Varsity Aces team, subscribe today. To get breaking news directly to your inbox, sign up for our newsletter and download our app.                        Email: tartaglia@northjersey.com                   Twitter: @njtags13