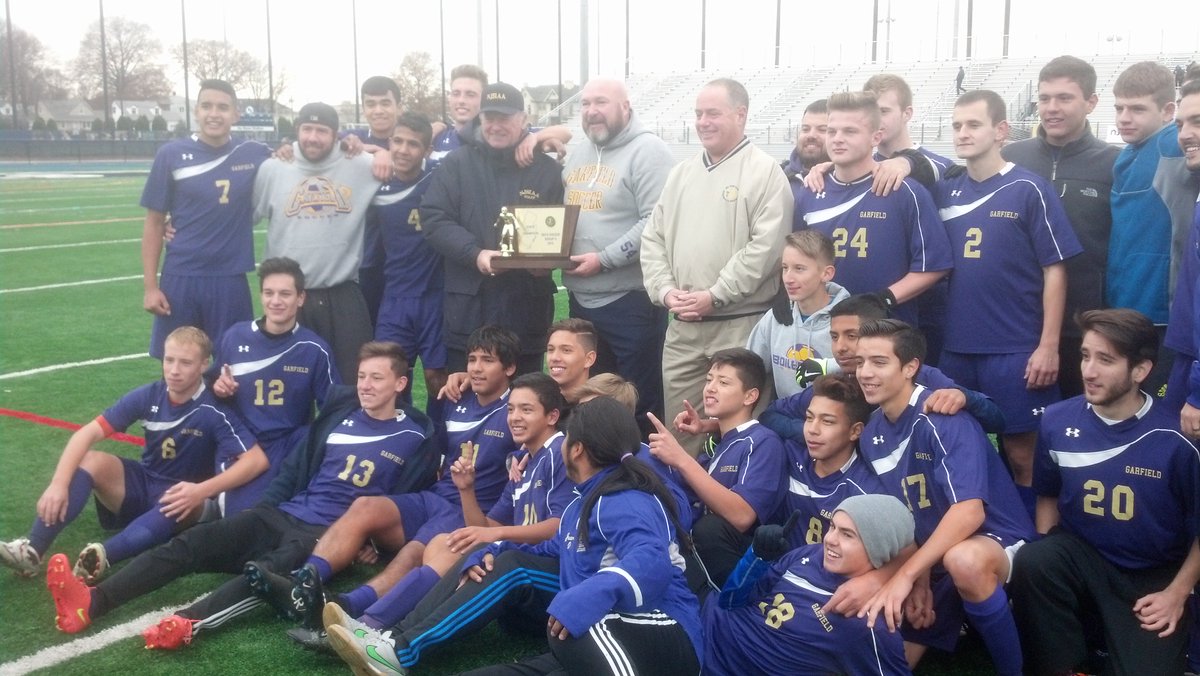 Garfield HS posing with their State Group 2 Soccer Championship Trophy (Record Sports)
H.S. boys soccer: Two goals in 27 seconds crown Garfield
November 23, 2015
UNION — One last time the clutch, quick-strike ability of Garfield was on display for all to see — only this time it came in the biggest boys soccer game in school history.
Rallying from a late one-goal deficit, Garfield scored a pair of goals in the final two minutes to thunder past Holmdel, 2-1, on Sunday in the Group 2 championship game at Kean. It was the first state title for the Boilermakers, who had advanced to the final in 1973 and 1975, falling each time to Lawrence.
"I just feel great for our entire team and the whole school. It's an accomplishment we can be very, very proud of, especially because of the way we worked so hard to make it happen," Garfield senior midfielder Dave Herrera said. "We accomplished what we set out to do when practice began in the middle of August. If everybody stayed together and believed, we could accomplish our mission — and no one was going to stop us."
Herrera (22 goals, 14 assists) was a major part of the comeback, assisting on the tying goal and scoring the game-winner for Garfield (19-3-3), which won its 11th straight game to cap its memorable campaign in magical style.
http://www.northjersey.com/sports/high-school-sports/boys-soccer/two-goals-in-just-27-seconds-crown-determined-garfield-1.1460884