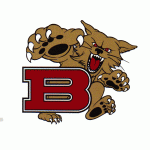 September 22, 2015
Sam Frola's freshman season on the Becton volleyball team ended unexpectedly in the middle of a drill. She jumped in the air, landed, sprained one ankle, and broke the other one. From that dark period, however, a silver lining eventually would emerge. Her doctor showed such extraordinary compassion and care that she's been inspired to become a physical therapist one day.
"The physical therapist made me feel comfortable," said Frola, who has Delaware, Kean, Felician and Rutgers on her short list of potential schools. "I would love to see my patients grow and become stronger. That's why I would want to become a physical therapist, to see the progress they would make."
The Record Female Athlete of the Week has shown a lot of progress on the court this season. She says she's more assertive and the stats back her up. The senior middle hitter had 39 kills, 34 service points, 19 digs, 17 aces and 15 blocks as the Wildcats defeated Hasbrouck Heights, Glen Rock, St. Mary's and Harrison last week.
Frola had perhaps her best performance in the big victory over Glen Rock, recording 10 kills, 10 blocks, 13 digs, four assists, four aces and 14 service points.
"Previous years I was timid to get the ball," she said. "I would get nervous that I would make a mistake. Now I'm confident to go out there. I go in front of the underclassmen to get the ball. I'm more aggressive this year, more than anything."
Coach Mike Settembrino uses words such as "quick" and "athletic" to describe her play. He said she uses pure power at the net to get her kills. She'd have a lot more, too, but the team needs her to be its second server.
"For a girl like that not to care because she knows she could get more kills is unbelievable," Settembrino said. "She's never said boo about it. She's happy to go to the back row and contribute."
Also nominated: Kelly Brogan of NV/Old Tappan and Caitlyn Floyd of Immaculate Heart in volleyball; Kathleen Silva of Cliffside Park and Abbie Wostbrock of Midland Park for soccer; Kassidy Shetler of Ramsey for field hockey.