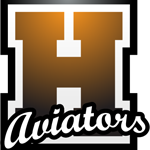 September 26, 2015
HASBROUCK HEIGHTS – James Pikowski did a clutch job filling in as the starting quarterback. He did just as good a job as the No. 1 punter for Hasbrouck Heights, in addition to giving dependable support on defense as a middle linebacker.
Buoyed by Pikowski's triple-role mastery and strong two-way line play, Hasbrouck Heights turned back Becton, 7-0, in an NJIC Meadowlands Division game at Depken Stadium on Friday night. The Aviators are now 2-1 overall, 1-1 in the Meadowlands, the same record as the Wildcats from East Rutherford.
A 5-foot-11, 175-pound senior, Pikowski took over the signal caller's spot for Hasbrouck Heights last week in a 17-16 loss to Park Ridge when No. 1 quarterback Frank Quatrone went down with a sprained ankle. Quatrone was hurt in the first quarter of the one-point defeat, with James Klenk first taking over and then Pikowski assuming the offense's reigns in the fourth quarter.
Against a solid foe in Becton, Pikowski carried 18 times for 131 yards to spark an Aviators offense that piled up more than 300 yards on the ground. He also punted four times, averaging 38 yards, and had a good game on defense, too, with four tackles.
With the game still scoreless, Pikowski directed a 53-yard, nine-play march that started late in the third quarter and ended on a 5-yard touchdown run by Seth Scalvino with nine minutes left in the final period. A senior tailback, Scalvino had 128 yards on 19 carries and senior halfback Brian Moran, before being injured, had 81 yards on 11 attempts for Hasbrouck Heights.
"Our offensive line really opened up some massive holes and our defense played excellently, too," said Pikowski. "Becton is a very good team and we had to be at our best to get by them tonight. They really stayed all the way with us until we starting popping some big gains in the second half. Also, I knew this was a game of field position so I knew the punts would be crucial and I made sure I pinned them back as far as I could."
http://www.northjersey.com/sports/h-s-football-james-pikowski-does-it-all-for-hasbrouck-heights-in-win-over-becton-1.1419112