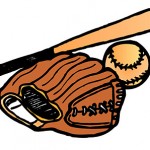 * Keep an eye on Lodi senior John Calabrese. He's 1-1 with a save and an 0.82 ERA. He also has 13 strikeouts and just three walks in 17 innings (three appearances).
* Junior 2B Julian Mis has driven in six runs in five games for Rutherford.
* Senior 1B/P Edward Baram has been a major force for 4-2 Saddle Brook. He's hitting .478 with two homers and nine RBI. On the mound he's 0-1, but has a 1.08 ERA, 26 strikeouts and only two walks in 13 innings.
* St. Mary opened the season with six straight wins, and senior 1B Nazier McIlwain has been a key contributor. He has 15 hits in his first 21 at-bats, including four doubles.
* Junior C David Mann had a huge week for Waldwick. He had 10 hits in 14 at-bats, including four doubles, and produced five RBI, five stolen bases and six runs. He also threw out six attempting to steal.
* Three newcomers have made strong first impressions for Wood-Ridge. Junior CF Ryan Morrone is hitting a team-high .400, sophomore SS Nick Pronti is hitting .350, and sophomore P Anthony Trano has two of the Blue Devils' three wins.
— Mark J. Czerwinski and Keith Idec
Record Sports