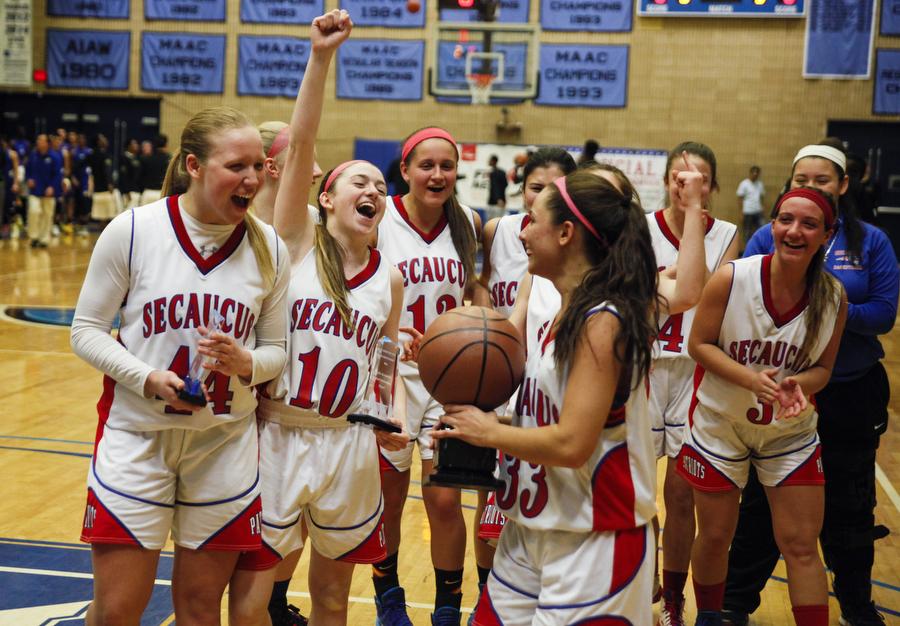 Photo courtesy of Jersey Journal: Secaucus celebrates Hudson County championship trophy after a convincing 54-34 victory over Lincoln HS.
………………………………………………………………………………………………………………………………………………………………
By Yueh Ho | The Jersey Journal
on  February 27, 2015 8:58 PM
Two years ago, Lincoln handed Secaucus a double overtime loss in the Hudson County finals, by making the shots they had to make in clutch situations.
For two years, the sophomores from that Secaucus team dwelled on that loss. Today in the county finals at Saint Peter's University, the Patriots finally got their chance at redemption.
This year it was the Patriots who were the more composed team — the team that made the clutch shots and took advantage of every opportunity. Secaucus routed Lincoln 54-34 to win its first ever Hudson County title and remain undefeated at 26-0.
"Ever since we lost sophomore year we let that play in our heads and we would not let that happen again," Secaucus senior guard Andie Lennon said. "When we came out strong in the first quarter and at halftime we knew we couldn't let up. Because they were going to be on us, they would do anything to win this. We really proved how much we wanted it."
Secaucus dominated the game early on, holding Lincoln to just four points in the first quarter. But Lincoln's athletic guards began to penetrate the Patriots' defense and knock down shots in the second quarter. The Lions went on a 9-3 run to put the game within striking distance at 15-13.
It was a run that could have doomed past Secaucus teams, but Secaucus remained calm throughout the entire game. Lennon, Lindsey Mack and Kendall Caruso made Lincoln pay for giving them space by taking advantage of their opportunities from beyond the 3-point stripe, sapping away Lincoln's momentum. Secaucus was particularly effective from downtown, sinking 10 3-pointers.
"I think it was experience. We were a bit young, made some mistakes a couple years go," Secaucus head coach John Sterling said. "It makes a big difference when you have senior leadership and we have a lot of experience (and a) much more calm confident group this year."
Lennon had a game-high 23 points, scoring seemingly at will from beyond the arc to earn the Hudson County Girls Basketball Tournament's Most Outstanding Player award in a postgame ceremony.