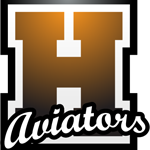 May 20, 2015
Maybe it's the unmatched depth for a Group 1 school.
Maybe it's the relaxed youth program in town that introduces the sport with the right vibe. Maybe it's the intimidating black and orange uniform.
Whatever the reason – and there are many – Hasbrouck Heights continues to be a small-school powerhouse locally and statewide in track and field. As we enter the final days of the spring season, with the sectional championships this weekend, the Aviators once again look to rise.
One of the most impressive – and least-talked about – streaks in North Jersey athletics is the Hasbrouck Heights girls team hasn't lost a dual meet in 20 years.
Coach Robert Brady is 208-0 in girls dual meets since taking over in 1996.
Yes, that's a zero at the end.
"It's true," Brady said with a chuckle. "Let me knock on the wood at my desk."
Related: Girls sectional preview
Granted, dual meets aren't the be-all, end-all in track and field. But the Aviators aren't just a head-to-head juggernaut.
The school of 400 or so students has won the Division C Bergen County boys title the past three years – Bergen divides its schools into divisions, not groups for its county championships – while the girls also earned the Division C championship earlier this month. This weekend, it's possible it will sweep the North 1, Group 1 championships at Randolph.
"It's just the thing to do in our town," said Heights senior Dillon Fisher. "The track team is looked at with high [regard], and kids want to be a part of it."
So those are the facts, and what's at stake. What it doesn't say is how this school has done this.
"So many people have been asking that this year," said Heights junior Brooke McKnight. "I think the answer is that Brady always says our sport is a team sport based on individual performances. If one of us is doing our best, we know it's not just for ourselves. It's for the rest of the team."
To continue reading this story:  http://www.northjersey.com/sports/cooper-on-h-s-boys-and-girls-track-in-hasbrouck-heights-track-is-the-thing-to-do-1.1338885