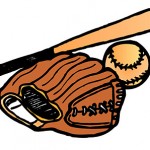 * Junior P Dallas Devlin continues to shine for Dwight-Englewood. He went 2-0 and struck out 32 batters in two starts last week. At the plate, Devlin went 15-for-19 with seven doubles, a homer and 15 RBI in four games.
* Garfield senior SS Kevin Buron, who's hitting .454, picked up his 100th career hit Friday against Rutherford.
He had seven hits with two doubles and four RBI to raise his average to .339.
* Pompton Lakes' 4-2 win against Garfield gave Cardinals coach Paul Tanis 300 career victories. Tanis became Pompton Lakes' head coach in 1998.
* Wood-Ridge won three games last week thanks to big contributions from senior P/SS Ethan Wilde. The right-hander improved to 4-1 by beating Hasbrouck Heights, and had six hits in nine at-bats with a home run, a double, two triples and eight RBI. He scored seven runs.