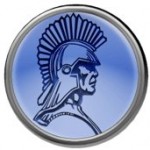 May 8, 2014
By MARK J. CZERWINSKI
STAFF WRITER – The Record
WALDWICK — Mike Salmonese gave Connor Walsh a really tough act to follow.     Walsh responded by stealing the show.     "Unbelievable," said Waldwick coach Frank Clark, who didn't know whether to laugh or cry after Salmonese and Walsh hit back-to-back home runs in the bottom of the seventh inning Wednesday to give the 15th seeded Warriors a 7-6 victory over No. 18 Demarest in the opening round of the Bergen County baseball tournament.
"In this park, nothing is ever over. We made a lot of mistakes today, myself included, but when we play here, there are some crazy games. Crazy games."
And this one certainly was right up there. The Warriors (16-2), No. 12 in The Record baseball Top 25, were trailing, 6-1, heading into the bottom of the sixth. That's when they began to take full advantage of the short right-field porch that graces their bandbox ballpark.
– See more at: http://www.northjersey.com/sports/high-school-sports/boys-baseball/waldwick-goes-deep-in-7th-1.1012000#sthash.d8d01Ai3.dpuf