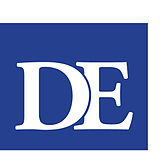 February 14, 2015
By Ryan Ratty
Correspondent | Northern Valley Suburbanite
NEW MILFORD – For anyone who has watched the Dwight-Englewood Bulldogs this year, it is obvious that they like to keep the tempo up and that's exactly what they did Feb. 12 against the New Milford Knights in a 91-71 scoring fest.
Despite not having the home-court advantage, the Bulldogs were able to go on the road and get the victory against a talented New Milford team.
Both teams started off the game hot. By the end of the first quarter, the score was 27-19 and both teams were having excellent shooting nights. The hot streaks for both sides continued in the second quarter as the Bulldogs went into the half with a 46-42 lead.
FRESHMEN RULE
In the third quarter, however, Dwight-Englewood upped the intensity and got out even faster on their breaks. With their emphasis on pushing the tempo, freshmen stars Jalen Carey and Owen Roberts took over the game by scoring 16 of Dwight-Englewood's 22 third-quarter points. From there, the Bulldogs were able to hold their lead and get the win.
The final score won't indicate it, but this game was competitive as any through the first three quarters. For the Knights, senior guard Chaheen Payne led the way with the help of brothers Andrew and Matt McElroy. Payne finished with 13 points and six assists, while the brothers combined for 25 points and 18 rebounds.
The trio from New Milford was a good one, but it wasn't enough to combat the trio from Dwight-Englewood. Roberts had 24 points as well as 13 rebounds. Junior Seon Layne also chipped in with a double-double with 18 points and 11 rebounds. Freshman Xavier Wilson also had a quality night off the bench with seven points and six rebounds.
http://www.northjersey.com/sports/high-school-sports/boys-basketball/h-s-boys-basketball-dwight-englewood-defeats-new-milford-91-71-1.1271434