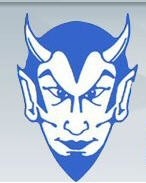 February 5, 2015
By GREG MATTURA
STAFF WRITER | The Record
Every follower of the Bergen Jamboree had to be asking the same question: Who is Will Cook?
That question needs to be answered after the 6-foot-4, 205-pound senior center from Wood-Ridge delivered one of the best performances in the 59-year history of the boys basketball tournament.
Cook's 35 points and 20 rebounds are the biggest reasons the 22nd-seeded Blue Devils upset No. 11 Garfield in the opening round and will face No. 6 Bergenfield in the round of 16 on Saturday.
"I guess I was just feeling it that day," said Cook, whose previous high was 24 points. "I did nothing different than I did before every game."
It's accurate to say that few in the storied history of the Jamboree have felt the pleasure of registering 35 points and 20 rebounds in a game.
"He was just so much more aggressive, and the guys kind of fed off him," Blue Devils coach Eddie Rendzio said. "We did a good job of getting him the ball where he can score."
So who, then, is Will Cook?
He is a third-year varsity player who averages 15.5 points and a team-leading 16 rebounds for a Group 1 school that no longer tries to break the sound barrier – and three-point records – with a breakneck pace. Cook's forte is scoring in the paint, but he can hit the occasional three-pointer. He is a very good foul shooter, and made 10 in the 82-69 victory over Garfield.
To continue reading: http://www.northjersey.com/sports/h-s-boys-basketball-wood-ridge-s-will-cook-arrives-in-big-fashion-1.1265781