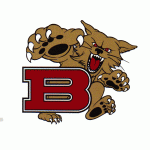 Jack Maher had one amazing Monday.
Around 2 p.m., Maher's wife, Janet, delivered the couple's first son, Matthew John, healthy and almost nine pounds. Thirty minutes later, Maher accepted the job as new head football coach at Becton.
Maher was approved by the Board of Education on Wednesday night.
"Within a half hour I had my baby boy and my first head coaching job," said Maher with a laugh.
The 36-year-old played football at Wood-Ridge and The College of New Jersey in a variety of roles. After college, he has been an assistant coach at Wood-Ridge, Bergen Tech, Kean University and Elmwood Park. He works as a teacher in Jersey City.
"Coaching is something I always wanted to do," said Maher. "That was a big part of why I got into teaching."
For the last three seasons, he served as offensive coordinator at Becton under head coach Chuck Kalender. Kalender had to resign last month to take an administrative position.
It didn't leave Becton a lot of time to find a replacement, but Maher was an obvious choice.
"Chuck got everything going and him leaving is big, but it's not as big, because he had a system in place and I have been by his side the last three years," said Maher.
"Stepping in should be a smooth transition. I have stayed in touch with Chuck throughout this whole process."
The Wildcats finished 8-3 last season, losing in the North 1, Group 1 semifinals to eventual sectional champ Verona.
http://www.northjersey.com/sports/high-school-sports/football/maher-takes-over-as-becton-s-head-coach-1.1372085