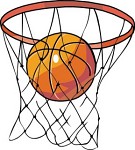 February 15, 2015
By j.c. baumuller
Sports Editor | Northern Valley Suburbanite
ENGLEWOOD – Dwight-Englewood held Leonia to six points in the first half and eight points through three quarters en route to a 43-18 victory Feb. 13.
In a slow-moving first quarter the Lions scored first when senior Taylor Quinton stole the ball and dribbled the length of the court for a layup. It wasn't until three minutes later that the Bulldogs tied the game when senior Stella Mayer went coast-to-coast for a layup after grabbing a rebound.
Mayer put the Bulldogs ahead for good with a pretty scoop shot and senior Isabel Guerriero extended the lead to 6-2 with a jump shot.
The Bulldogs zipped the ball around the perimeter with sharp passes on their next possession. The ball found senior Lexi Mayer, who ended the play by scoring to make it 8-2.
"The more the season has gone on the more assists everybody is getting per game," Stella Mayer said. "One of the things I'm proudest of about my team is its selflessness and willingness to make that extra pass and it shows on the court."
"We're very much a defensive team so on offense we have to get our passes in," added Bulldogs coach Marissa Moore. "We can't rush things – we have to settle on offense before we can get a good shot off. Our girls have learned that this season – how to play with each other. Now they're starting to read each other – know where this one is going, who can do what. [Identifying] the one who can shoot so we know to set her up – move the ball around and get her the shot."
http://www.northjersey.com/sports/high-school-sports/girls-basketball/h-s-girls-basketball-dwight-englewood-defeats-leonia-43-18-1.1272031