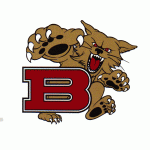 May 15, 2015
EAST RUTHERFORD – There was a time when the Becton softball team wouldn't have been able to come through with the tying run in scoring position in the seventh inning.
Pitcher Kaitlin O'Shea struck out her fifth batter of the game, and Crystal Arendas tracked down a long fly off the bat of Jen Larson as the eighth-seeded Wildcats held off No. 9 Pompton Lakes, 3-2, Thursday in the first round of the North 1, Group 1 state sectional tournament.
"The kids really wanted this because it's been a few years since we've won a game in this tournament," Becton coach Dwight Hall said. "Last year we lost to Boonton in the first round and the year before we lost to Cresskill. This is a nice win for us."
But it didn't come easily for the Wildcats, who will face the winner between top-seeded Butler and 16th-seeded Wallington in the sectional quarterfinal next week.
http://www.northjersey.com/sports/high-school-sports/girls-softball/becton-gets-the-timely-hits-quality-pitching-1.1335367