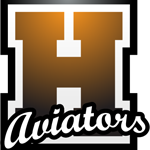 May 6, 2015
WOOD-RIDGE – One big inning. That's all it took for Hasbrouck Heights to assume control of a tight contest against neighboring rival Wood-Ridge.
The Aviators broke through from a 1-1 tie with four fifth-inning runs as they defeated the Blue Devils, 5-1, in an NJIC Meadowlands Division softball game Tuesday at Donna Ricker Field.
The timely hitting of Stefanie Pagan, Kerry Halpin, Hannah Christensen and Sarah Bailey, who each drove in a run in the pivotal frame, and the steady pitching of Jessica Gasparino carried Hasbrouck Heights (10-7) to its third win in its last four games and its fourth in its last six.
"We felt we were getting some good at-bats early, but we were a little overanxious, popping the ball up and getting under it for medium-range fly balls instead of line drives," said Hasbrouck Heights coach Jackie Ferranti. "But eventually we waited on the pitches a little better, and that's when we began to really start spraying line drives over most of the field."
http://www.northjersey.com/sports/high-school-sports/girls-softball/hasbrouck-heights-rides-big-inning-to-victory-1.1326202