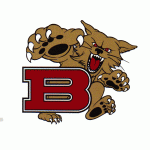 February 22, 2015
By DARREN COOPER
STAFF WRITER | The Record
EAST RUTHERFORD – Becton/Wal-lington won with individual excellence, a rousing comeback, and because of the "Dylie-Bear."
The co-op program won the District 15 championship Saturday at home, finishing with a district-best four champions. It will send seven wrestlers to Region 4 this week.
"Winning the district title was not expected," Becton/Wallington coach Mike Settembrino said. "Our goal was to place in the top three. I thought Dylan [Lewin] wrestled fantastic and I think the fact that we won the district without making the state [team] tournament says something."
Lewin, aka the Dylie Bear, sewed up the title with his victory at 182 pounds, fighting off Sean O'Malley of Hasbrouck Heights/Wood-Ridge, 5-3.
Lewin had spent most of his season at 195, but seeing the potential matchups down the road, he and Settembrino decided the right thing to do was bump down.
"I just cooked for myself, ate chicken; I did what I had to do," Lewin said.
Against O'Malley, Lewin got a takedown with 35 seconds left in the third period to go up 5-2. O'Malley escaped and pressured Lewin in the closing seconds.
"He is one of the toughest kids I have ever wrestled," said Lewin, a senior. "I was scared he was going to get that takedown at the end. I just gave it everything I had."
"Dylan is very quick for his size," Settembrino said. "People underestimate how athletic and quick he is. He's fast, I know, [because] I wrestle with him. He's hard to move."
http://www.northjersey.com/sports/high-school-sports/wrestling/lewin-s-win-puts-wildcats-over-the-top-1.1275905