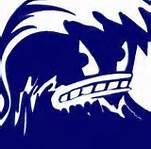 The Jersey Journal on May 14, 2013
HARRISON
— The result of Harrison's mercurial performance in today's Hudson County Boys Volleyball Tournament quarterfinals was two-fold.A 25-19, 25-17 home victory over fifth-seeded McNair booked the Blue Tide a spot in Thursday's semifinal against top-seeded St. Peter's Prep. On the flip side, it also left senior Varinder Singh and his teammates with one certainty as they move deeper into the tournament: they must get better.
"I think we need to elevate a lot. We've got to stop making mistakes and play our game," said Singh, a 6-foot-5 middle blocker. "These errors, they just mess us up. We can't be doing it."
Harrison (15-6) received a healthy offensive output from Singh and fellow senior Carlos Gutierrez, overcoming 23 errors and some erratic play. The duo combined for 19 kills, as Singh delivered seven of his team-high 10 kills in the first game.
Da'Zhon Bethea led McNair (13-8) with five kills, three blocks and five digs, but the Cougars' last lead of the match came early in the second game (4-3). From there,  the Blue Tide regained the lead before Gutierrez and Singh directed a 14-7 run to close the match, propelling the Blue Tide into Thursday's semifinals.
"We've got to play more offense, we have to earn more points. We earned a few, but not enough," said Harrison coach Nick Landy. "I told them if we're going to go any further, we have to come to play the entire match."
Harrison quickly built a 5-1 advantage in the opening game, but the Blue Tide's 13 errors in Game 1 made for tough sledding early on. McNair pulled even at 7-7 when a Bethea dig sailed over the net and landed in Harrison territory. Harrison notched seven of the next 11 points, before McNair answered with five straight points, taking a 15-14 lead.
Landy's team continued its stumble, falling behind 18-17 on another hitting error, but finally righted itself on a Singh kill that made it 19-19. Harrison then closed out the first game with authority, lacing six-straight points, all on Tijani Rezki services.
Gutierrez, an outside hitter, finished with nine kills, five digs and three service points, while setters Piero Martinez and Vinny Yoshimoto combined for 18 assists and 10 digs.
In only his second year of organized volleyball, Singh has proven helped bolster Harrison's play on both sides of the ball. Singh is second on the team in kills behind Gutierrez with 141 and tops in blocks with 59.
St. Peter's Prep (17-6), the team waiting for Landy's unit, made quick work of Memorial in a 25-12, 25-18 verdict. Second-seeded Bayonne and third-seeded Kearny also advanced with victories over Union City and Snyder, respectively.
"We have one day to really work on our offense," Landy said. "From here on in, it's really their mental preparation."
Harrison (15-6): Frank Contreras 3 service points; Carlos Gutierrez 9 kills, 5 digs, 3 service points, 1 ace; Ramon Madeira 1 assist, 1 dig, 1 kill; Piero Martinez 12 assists, 5 digs, 2 service points; Piotr Namiotko 2 kills; Matthew Oliveira 1 assist; David Penaherrera 6 digs, 2 service points, 1 assist; Tijani Rezki 13 service points, 7 digs, 2 kills, 1 ace; Varinder Singh 10 kills, 4 blocks, 1 dig; Vinny Yoshimoto 6 assists, 5 digs, 4 service points, 1 ace, 1 kill. 
McNair (13-8): Matthew Aquino 4 digs, 2 blocks, 1 service point, 1 assist; Da'Zhon Bethea 5 digs, 5 kills, 3 blocks, 2 service points; Terrence Cando 5 digs, 2 service points; Miguel Lladas 7 digs, 5 service points, 4 assists; Joshua Nwabueze 2 digs; John Pangilinan 5 digs, 3 kills, 2 assists, 2 blocks, 1 service point; Vraj Kumar Patel 1 dig; Akash Rai 8 digs, 4 service points, 1 ace, 1 block, 1 kill; Roland Samano 3 digs. 