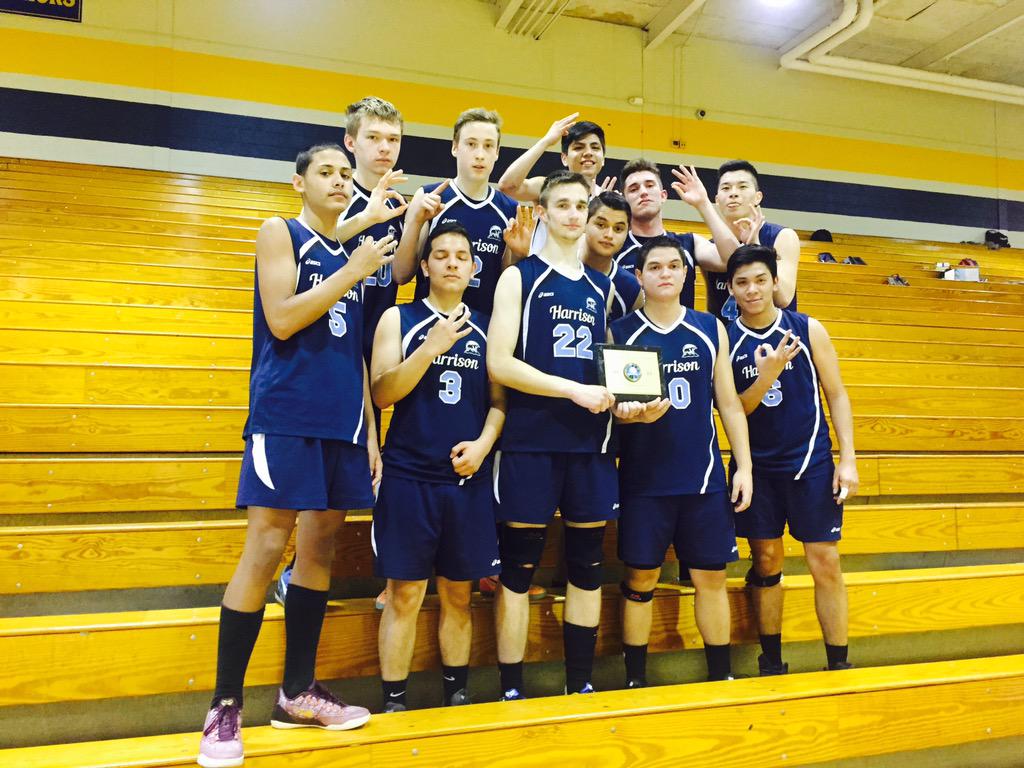 By Yueh Ho –  The Jersey Journal
on April 17, 2015
Two of the top boys volleyball teams in Hudson County, and the state, clashed yesterday at St. Peter's Prep. In what might prove to be a watershed moment for both teams, Harrison, No. 12 in the NJ.com Top 20, went toe-to-toe with the No. 15 Marauders.
Momentum swung back and forth as neither team was able to establish a clear advantage. The game ultimately came down to who could best minimize their mistakes.
In the end, Harrison did just enough, winning straight sets, 25-20, 25-23, and perhaps establishing itself as the team to beat in the county.
"These were the two best teams in Hudson County, and (it) was like a dogfight. It was a little nerve-wracking but this is the kind of volleyball you like to play," Harrison head coach Nick Landy said. "This helps us stay where we are (ranking-wise). We'll see what happens. I always take it one game at a time."
The game began with Harrison dominating at outside hitting, thanks to Piotr Namiotko. The junior finished with a game-high nine kills.
After falling behind 20-12, however, St. Peter's Prep made an adjustment and allocated extra attention to block Namiotko's spike attempts. The Marauders responded with a 7-1 run to cut Harrison's lead to a slim 23-19. But in the end, the Blue Tide was able to clamp down, get the final kill and win the set.
"The first set we got a little sloppy. We had a 20-12 lead and we blew it, we let them get up to us. We just told them to keep playing their game and play hard, it's all we can tell them," Landy said.
The second set was much more closely contested, with Harrison playing from behind until finally taking the lead at 11-10 halfway through the set. From then on, the Blue Tide made more plays and held off Prep for a 25-23 win.
St. Peter's head coach Maurice Washington believes the difference between the two teams was Harrison's superior serving. The Marauders missed several serve attempts, which came back to haunt them in both sets.
"We served out too many balls. That's really the biggest thing. In volleyball missed serves are the equivalent of missed free throws in basketball, you gotta (make) those," Washington said. "That was really the difference we had, in the first set, we lost by five and we had seven missed serves. In the second set we lost by two and had five missed serves. That really makes the difference."
Harrison junior setter Jimmy Vega also had a strong performance with six service points and a game-high 23 assists. St. Peter's Prep senior Bradley Switala had a big game with four service points and 22 digs.
Namiotko expressed his excitement about what a win over last season's North 2 sectional champions could be mean for the Blue Tide's chances in this year's postseason.
"It feels really good because being higher in the county gives us a better advantage," he said. "Get to play in our home-court most of the time."