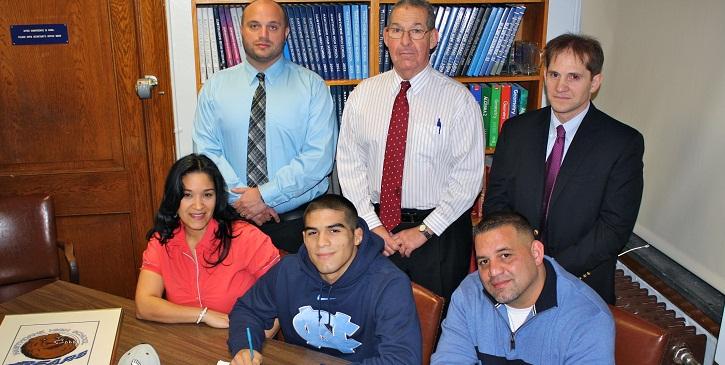 Ronce Rajan and Clarion Staff, Photo courtesy of Darren Cooper/The Record January 13, 2013
Hawthorne High School senior wrestler Ethan Ramos has signed an early National Letter of Intent with the University of North Carolina in Chapel Hill (UNC).
Ramos said he had a very tough decision to make in choosing which school to attend. His top choices were Rutgers University, University of Virginia, and, of course, University of North Carolina. His choices were then narrowed down to Virginia and North Carolina. When asked why he ultimately chose UNC, Ramos responded, "I felt very welcomed. The coaches were pretty cool. I've been a fan of Cary Kolat [UNC's head wrestling coach] and I loved the campus. The biggest thing was that I just felt better about picking them."
Ramos, the Bears all-time victory leader with 112 wins, currently is undefeated and ranked first in New Jersey at 170 pounds. An honor student, Ramos is a two-time Passaic County champion and has won three District titles and one Regional. He finished fourth in New Jersey last year. He was, also, a two-time first team All Passaic County selection in football. Now, having accepted a scholarship to the Division I school, he will be wrestling for the Tar Heels next winter.