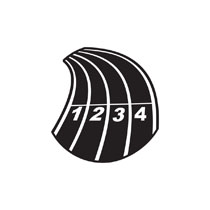 Hasbrouck Heights has long been one of New Jersey's top group 1 teams in both boys and girls track and field, both indoors and outdoors.
The Aviators have won dozens of league, county group and state sectional meets. But before last Thursday night, their only gold state group trophy had come from the 2011 boys team that won the indoor relays.
Thursday, the Aviator girls, after just missing a scoring place in the night's first event, the distance medley, grabbed a share of the lead with an impressive win in the shuttle hurdles and never gave it up, dominating the field events for a 54-40 win over Clayton, in the meet held at the Bennett Center bubble in Toms River.
"We always try and compete in the state relays, and with no NJIC meet this year we wanted to use it as our first team championship meet of the year and a springboard for the rest of the year," said veteran coach Rob Brady. "It's the first girls state group title in any sport in Hasbrouck Heights history.'
The team of Amber Barrios, Brooke Freschi, Ella Reyngoudt and Megan Napolitano ran a sizzling time of 34.68 seconds to win the shuttle hurdles more than a hurdle and then Barrios joined first year indoor runner Dea Jera, Paige McGuire and Elisha Santos to take second to Clayton in the 4-x-200.
Barrios, the only Aviator for score in four events, teammed with Natalie Kroncke, and freshmen Lexi Powers and Mackenzie Bua to take fourth in the 4-x-800.
Meanwhile, the Aviators were tearing it up in the three field events.
Freschi and Gea DePass took second in the high jump, while Napolitano and Emma Cunningham were second in the pole vault. But it was the rookie pair of soph Elliot Eddy and junior Meghan Stellhorn that provided the biggest lift, combining to throw 60-7 1/4 and win the title.
"The field events gave us an 18 point lead over Clayton with just two events," said Brady. "Then we got two points in the sprint medley and the meet was ours."
After the makeshift sprint medley team of Freschi, Ines Turner, Santos and Morgan Gagliano scored the clinching points, Barrios, Jera, McGuire and Mia Gagliano grabbed fourth in the 4-x-400 for the final margin.
"I was worried going into the meet because our top distance runner (Isabella Drezek) was unavailable because of a stomach virus," said Brady. "That probably cost us points in the DMR and 4-x-800 but our girls came together to pick us up. I'm real happy with this win."
Other medal winners:
Group 1 (Jan. 13): BOYS: Kinnelon (3rd, distance medley, 11:11.96; 6th, 4-x-200, 1:39.46; 3rd, 4-x-800, 9:00.53; 4th, 4-x-400, 3:43.80; 2nd, high jump, 11-0); Hawthorne (5th, distance medley, 11:48.23; 6th, sprint medley, 3:56.48); New Milford (2nd, 4-x-200. 1:38.74); Secaucus (5th, 4-x-800, 9:27.07); Saddle Brook (6th, 4-x-400, 3:45.07); Hasbrouck Heights (2nd, shot, 87-4 3/4); Midland Park (3rd, shot, 86-7 1/2); Saddle Brook (5th, shot, 82-9 1/2).
GIRLS: Saddle Brook (6th, distance medley, 14:21.49); Kinnelon (6th, shuttle hurdles, 39.50; tie 3rd, high jump, 9-0); New Milford (4th, sprint medley, 4:43.28): Emerson (2nd, shot, 56-2 1/4).