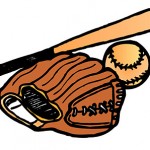 By Braulio Perez | NJ Advance Media for NJ.com
on June 12, 2015
Player of the year: St. Mary (Ruth.) third baseman Gregory Cuevas still has one more season left donning a Gaels' uniform. That's daunting news for pitchers in the North Jersey Interscholastic Conference.
The stud third baseman had a head-turning junior campaign at the plate. Cuevas let St. Mary (Ruth.) with 56 hits, 34 RBIs and a .636 batting average. He added 37 runs scored, 12 doubles and 15 walks.
Perhaps what was most impressive about Cuevas' campaign was his consistency in recording multiple hits per contest. In St. Mary's 29 games, Cuevas had at least two hits in 20 of those games. He had at least three hits in eight games.
"All offseason, I was working hard on my craft, just trying to make my team better," Cuevas said. "Recently I had a family tragedy and it has taught me to not take anything for granted.
"Every at-bat (this season), I went up like it was my last."
Team of the Year: In early June, every team in the Garden State dreams of capturing a state title. And in 2015, Emerson Boro did just that. The Cavaliers defeated Middlesex on June 6 by a score of 3-1 for the Group 1 championship.
Emerson Boro closed the season winning its final 10 games.
Coach of the year: Emerson Boro head man Christopher Sommerhalter, a long-time assistant for the Cavaliers, took over for the program late in 2014 and wasted no time making a big difference for the team this season. With Sommerhalter in charge, the Cavaliers finished the year with a 26-5 record and won the Group 1 state championship.
"Nothing has phased these guys all season long," Sommerhalter said after his team won the state title. "We've worked tremendously hard all season and for the guys to win the state title is an awesome feeling. I'm proud of this team for what they've been able to accomplish."
Conference notes:
• Weehawken shortstop Brian Rodriguez had an unbelievable year for his club in 2015. The junior hit .547, with six home runs and 38 RBIs.
• Cuevas wasn't the only player to put up big numbers for St. Mary's. Naz McIlwain hit .484, with 46 hits and 29 RBIs. Joey Castellanos also had a big campaign, hitting .424, with 39 hits and 28 RBIs.
http://highschoolsports.nj.com/news/article/-3274878781373305311/baseball-north-jersey-interscholastic-conference-player-of-the-year-and-other-postseason-honors-2015/