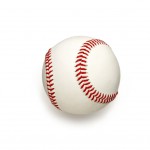 April 20, 2015
Both Rutherford and St. Mary baseball teams have leads in their respective North Jersey Interscholastic Conference divisions, Colonial and Meadowlands divisions, but took tough independent losses last weekend.
But both can take solace in the independent losses as preps for the Bergen County and state tournaments.
St. Mary dropped its first game of the season, falling 6-0 to one of the best teams in the state, Gloucester Catholic, on Saturday in Rutherford.
And Rutherford dropped a tough 6-3 decision to Indian Hills in eight innings at home on Saturday.
Rutherford head coach Carmen Spina knows his team had its chances against Indian Hills with 12 hits in the game. "Yes, Indian Hills was a tough loss. We had bases loaded in the bottom of the sixth with two outs and second and third in the seventh with two outs and were unable to generate a hit," said Spina.
Spina liked his pitching against Indian Hills as starter Carl Hakaanson pitched six innings without allowing an earned run, and reliever Nick Birchby was solid in relief.
Despite the loss Rutherford was 7-2 at the end of last week and was in first place in the Colonial Division, but was facing a tough week this week that will test their lead. "This week we will have three big conference games with Glen Rock, Garfield and Hawthorne," said Spina. "Every game is big as we are trying to extend our lead in the division race."
Against Gloucester Catholic, St. Mary could not figure out ace pitcher, John Murphy, but did have its chances.
"Our kids battled against a pitcher who will get drafted in the top five rounds of this year's Major League Baseball Draft," said Hulse.
Against Murphy junior Gregory Cuevas continued his great start going 2-for-2, with a double and was intentionally walked to load the bases in the sixth inning.
Despite the loss the Gaels were 8-1 at the end of last week and have dominated their Meadowlands opponents including Weehawken, 19-1, on April 15. Hulse added that it is not tough getting his time up against Meadowlands Division opponents despite dominating the division this season. "We have a great group of players who are real baseball junkies," said Hulse. "They love the game and are excited every day that we play. So whether it's the No. 1 team in NJ or any other game they are excited and ready to play."
St. Mary took control from the start with eight runs in the bottom of the first inning to take an 8-1 lead and cruised in the five-inning game.
Senior outfielder Tommy Genuario had a big day going 4-for-4 with three RBIs, a home run and three runs scored. Gaels pitcher Chris Quijano went the distance, five innings with one earned run. He struck out nine. St. Mary first baseman Naz McIlwain also had a big day going 2-for-3 with four RBIs and a double while scoring three runs.
http://www.northjersey.com/sports/high-school-sports/boys-baseball/rutherford-bulldogs-st-mary-gaels-in-first-in-njic-divisions-fall-in-indy-games-1.1313299